Platforme virtuelle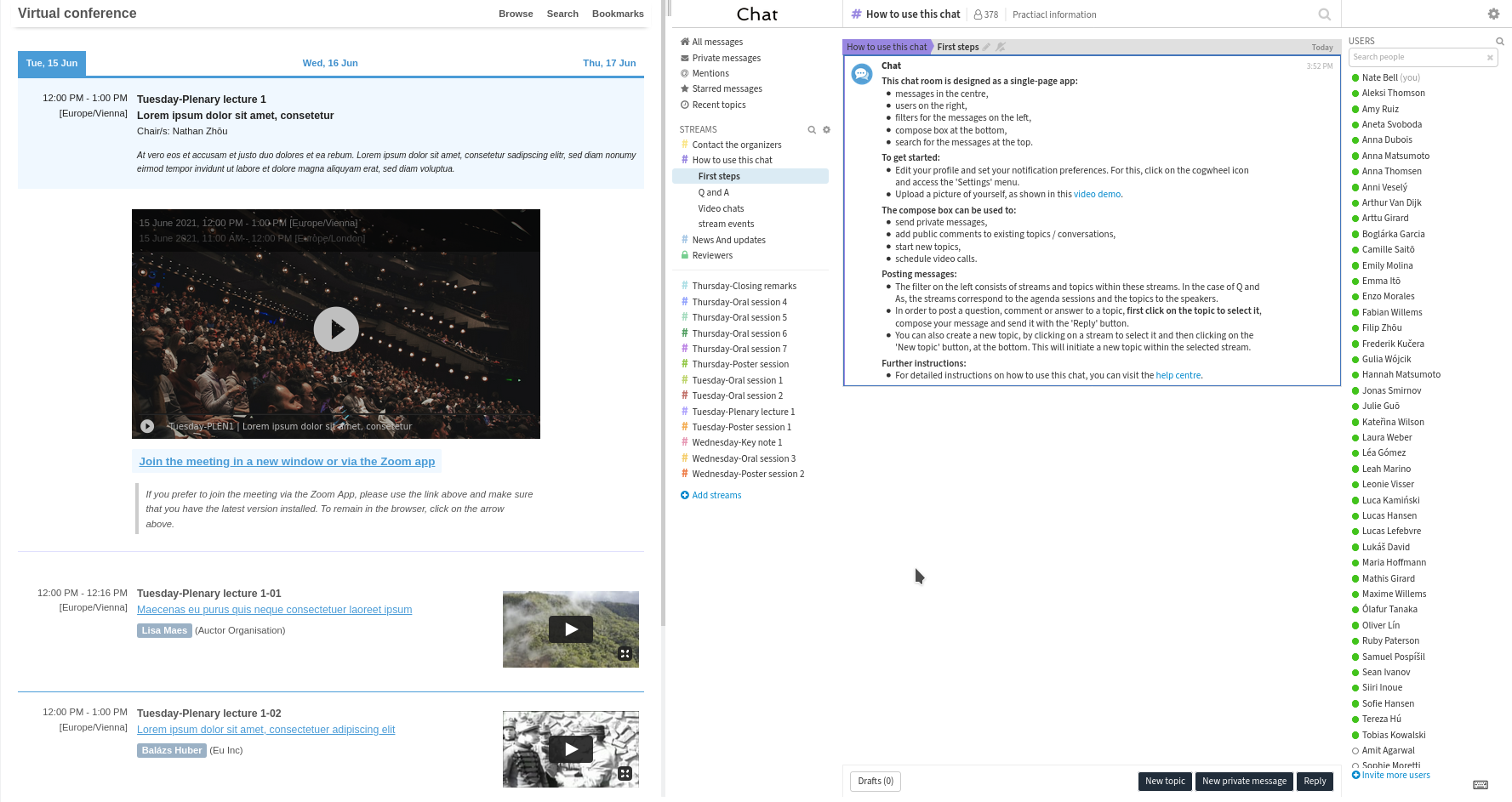 About the virtual platform
The online platform consists of a split screen displaying the conference agenda on the left and a chat on the right. Live sessions, social video sites and pre-recorded videos can be linked to or embedded on the agenda, allowing speakers to present their work and meet face to face. The agenda contains the abstracts and the full papers, if available. The presentations can be searched and bookmarked. The chat provides Q&A streams, as well as a means to mingle, interact asynchronously and receive updates from the organizers.
Live sessions
We use Zoom for live sessions, group meetings and breakout rooms. The Zoom meetings can be embedded in the program or accessed via the Zoom app. They can be recorded and inserted in the agenda, after the event.
Pre-recorded presentations
We use Vimeo to stream pre-recorded videos of the presentations, which can be embedded in the agenda. Organizers can review, upload and delete the uploaded videos in the admin area.
Presenters can upload (and reupload) their pre-recorded videos from their COMS account. The videos are automatically inserted in the agenda.
Instead, or additionally, presenters can upload other types of presentations (e.g. PowerPoint or PDF). These are also automatically inserted in the agenda.
Chat app
We use Zulip for the chat. Users can view the list of participants and whether they are online. They can send them text messages and schedule one-on-one video meetings in the chat.
The software creates streams and topics for all the sessions and their speakers in the chat. This allows participants to post questions and comments to all speakers. Speakers can respond to the posts.
Participants
Users are automatically onboarded to the platform. They do not need to create an account separately from COMS.
Once logged in to the platform, participants can access all resources without login (agenda, chat, meetings, videos).
Attendees can access the platform on desktops, laptops and hand-held devices. On wide screens, they can adjust the divide between the two parts of the screen.
Organizers can control access to the platform by setting a filter in the admin area of their COMS site.
The platform remains accessible for a few weeks after the end of the event. Participants can freely return to view the agenda, read the conversations on the chat and get in touch with other participants, provided organizers will allow it.
Dernière mise à jour: 27 Janvier 2022