Integration with Stripe
On this page
December 2019
A Stripe account is free and easy to obtain. You need, however, to be a registered business or non-profit in order to be able to accept credit card payments with Stripe. Payments collected through Stripe are automatically transferred to the bank account of your university or organization. Stripe takes a commission on all payments. The fees are listed at https://stripe.com/at/pricing.
In order to integrate the COMS system with Stripe, you need to own a validated Stripe account. The steps necessary to obtain it are described below. If you already have an approved Stripe account, there is no need to register a new one.
Register an account with Stripe
The first step is to check whether it is possible to open a Stripe account in the country where the payments will be received. You can check this at
If your country is supported, the next step is to open an account at
Validate your Stripe account
On your newly created Stripe account, you will have to provide details about the business / non-profit that collects the funds (Fig. 1).
Stripe will check the data and decide whether or not they approve it. It usually takes less than an hour.
Once the account has been approved, it is ready to be integrated with COMS.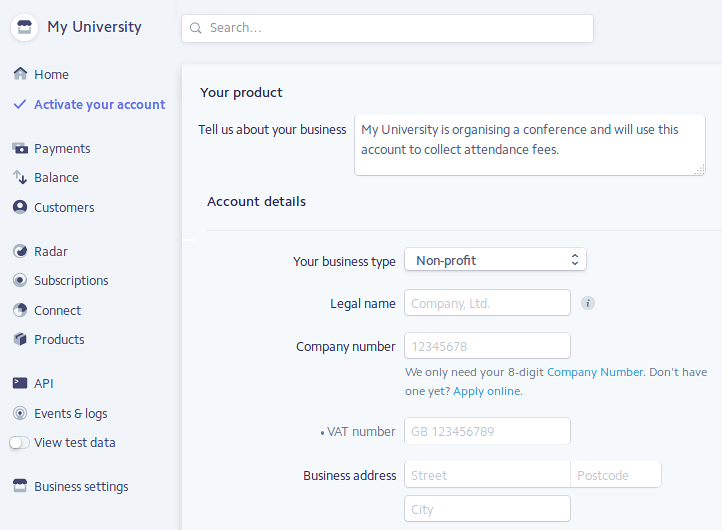 Integrate your Stripe account with COMS
Log in to your Stripe account and retrieve your API keys (Fig. 2). These exist in two modes: test or live. The test keys should be used in the configuration phase, as it allows testing payments with dummy cards. When the setup is ready, switch to the live keys.
Log in to your COMS account, go to Configuration / Bookings & Payments / Connect your bank account and input the keys (Fig. 3). The easiest is to copy and paste the values from your Stripe account. Both the test keys and live keys are input on this page.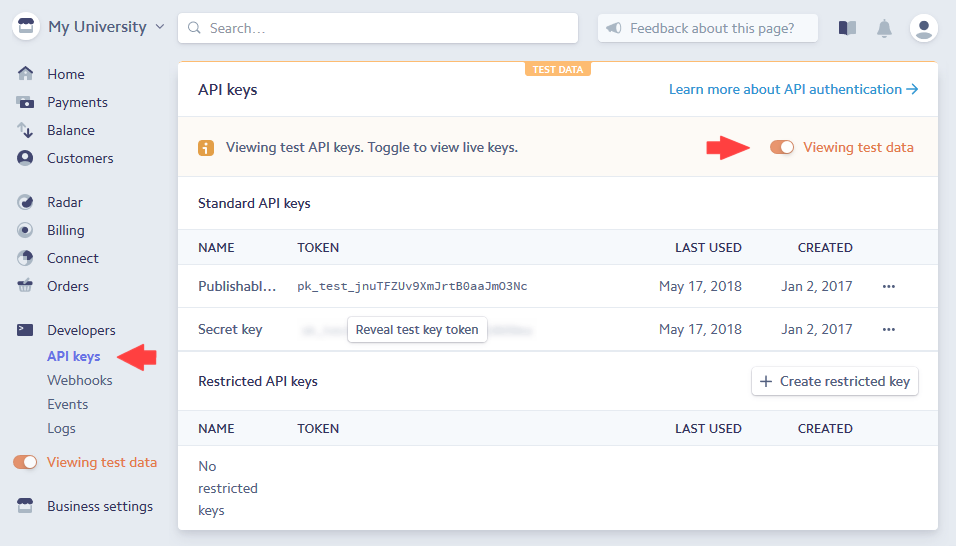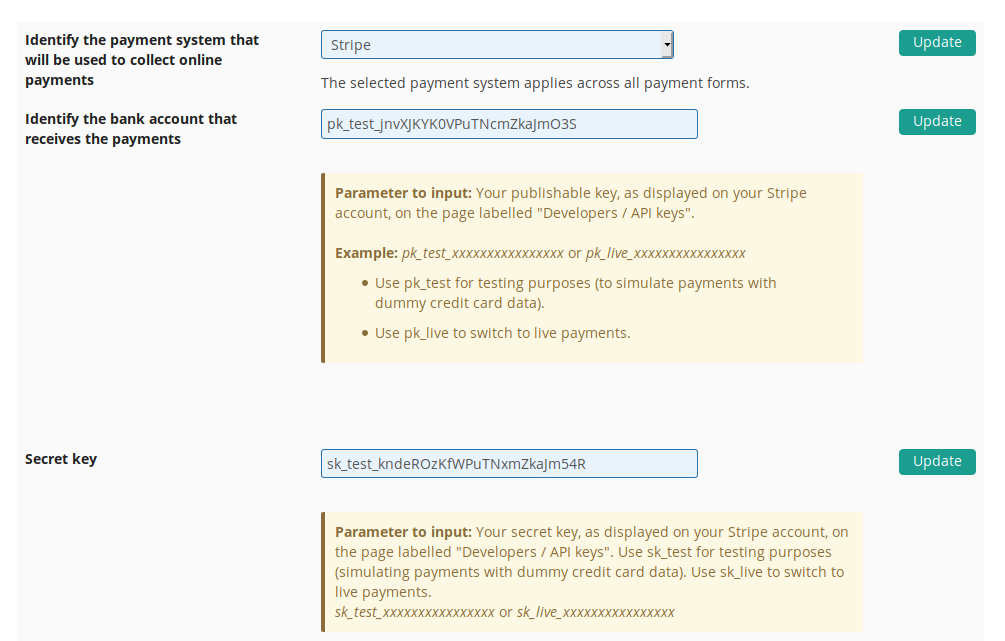 Test the Stripe integration
In order to test the integration, you will first need to activate and configure a payment form on your COMS site, as detailed on the page labelled Setup of the payment form/s (Fig. 4, 5).
After readying a payment form in the configuration, you can perform or simulate a payment with Stripe by filling in the registration form and calling the Stripe payment form (Fig. 6).
The Stripe integration can be activated in either test mode or live mode and you can go back and forth between the two.
The test mode is used to simulate payments and check that they are duly reported in COMS.
After this, you might want to switch to the live mode and simply check that the Stripe payments forms are correctly brought up.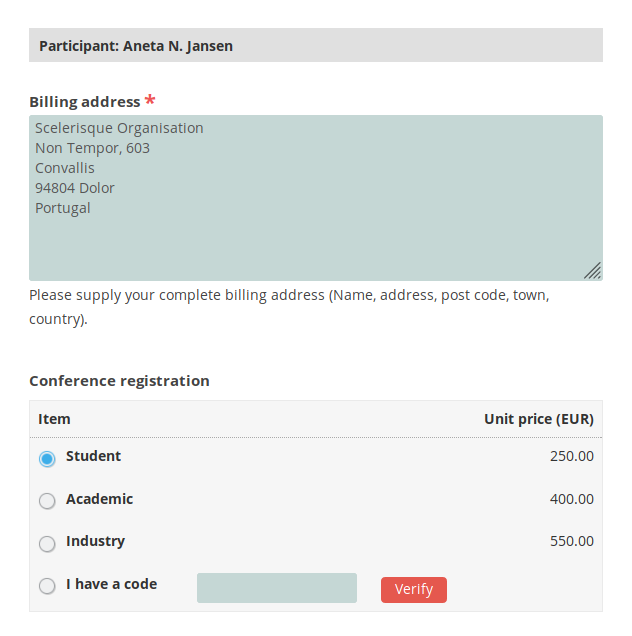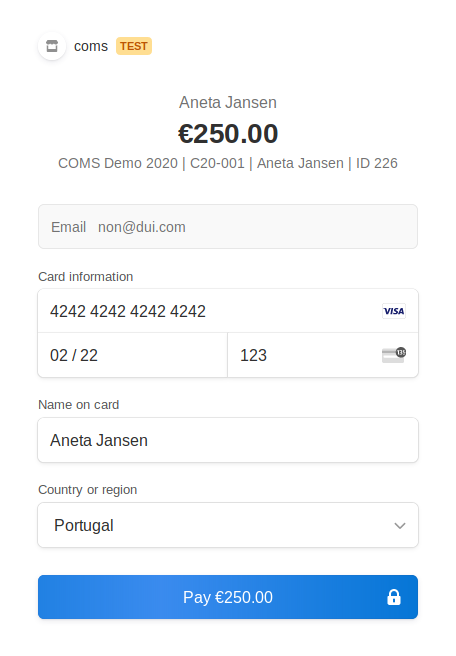 Test cards to simulate payments in test mode
Test card numbers can be found at
The listed card numbers can be copied and pasted into the Stripe payment form for testing. All other fields can be made up.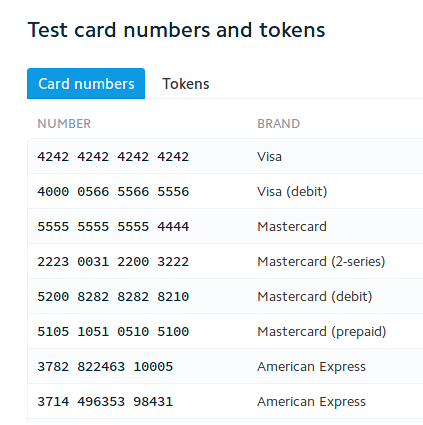 Finding payments and payouts on your Stripe account
After logging onto your Stripe account, you can find the received payments as shown on Fig. 8.
Payouts from your Stripe account to your bank account can also be viewed, as shown on Fig. 9.